Blues Move: "beat'n'trak" BLUMBERG RECORDS BRCD007 (2001)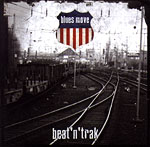 This is truly blues with an edge. No lazy "going through the motions" playing - everybody is on their toes, very much connected to each other. Tremendous interplay, very live feeling, lots of closeness in the sound: these guys are playing up a storm in your living room!
Five originals, five 'covers'. First out is "If Love Was A Train" by Michelle Shocked (not yer average 12bar blues purveyor! Full points for that!), a fast'n'furious "take no prisoners" shuffle. Followed by "Get Out Of Jail" with a good-timey intro, tinkling piano, sliding guitar. A jerky New Orleans rhythm changing gear into a glorious free-for-all.
"Diplomat" is a funky workout with wahwah guitar: Ben Sidran meets Jimi Hendrix. "Slow Train" opens up with a solitary slide guitar figure, becoming the backbone of this little masterpiece. A bit Dylan-ish, not only in the song title. Beautiful tone in that ringing guitar.
"Remington Ride" makes you hum along, tapping your feet. Good set opener/closer I'm sure. Strict playing at first, then the wahwah goes pedal to the metal. "Rhythm Of Life" has a playful rhythm, wahwah guitar again, tinkling piano, great chord sequence and a nice series of false endings.
"Brand New Friend" gives you a beautiful twangin' guitar across the prairie land. Wistful piano, impassioned guitar. "T-Bone Shuffle" is well executed. A blues bar standard in my neighbourhood: perhaps that song is a bit worn as CD material.
"She's A Burglar" has a great guitar intro, lots of Hammond power, funky bass and drums and a finely developed guitar solo. "Good Thing Is About To Run Out" (yes, it's the closing track!) has good dynamics: a menacing atmosphere, tremolo bar & wahwah guitar and hell-for-leather playing. Stand back!
Good solid vocals all over the place - but I was so stunned by the sheer musicianship that I missed to pen that obvious fact down!
An amazing album this one which (like Hershey's new one) should not be kept a secret on the blues shelves. And the live feeling of this CD spells out forcefully that they must be even more overpowering on stage than in my living room! Do not miss out!
Christer, June 18 2001