Bengt Blomgren & Nikke Ström often work together. Can be found on stage: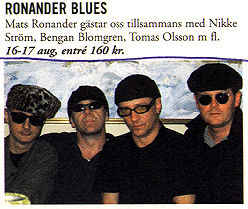 a) in Ronander Blues:
Mats Ronander vo, harp, gtr
Bengan Blomgren gtr
Niklas Medin keys
Nikke Ström bs
Tomas Olsson dr

Ronander Blues issued one CD in 2000: "First Take" (distr. BLAZE).
Picture to the right from "Rest. Gillestugan"'s programme (2000).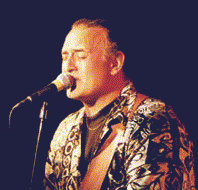 b) in Bjurman Band, supporting vocalist and guitarist Ola Bjurman, playing low key bluesy rock (Bob Dylan, J.J. Cale, John Hiatt).

On drums Tomas Olsson - or deputy Martin Fürst (ex-Py Bäckman, long ago! Nowadays member of Tommy Nilsson's band, plus deputy with Paolo Mendonca a.o.).

Bjurman has issued two CD's, one of them being "Slowstarter" (WRCD 9801)

c) as treasured long time sidemen to Ulf Dageby: singer/songwriter and composer of classical music as well as movie soundtracks.
Bengan: "Some electric guitar of mine is featured on Dageby's soundtrack of the television serial "Anderssons Älskarinna" ("Andersson's Mistress"). We recorded some bluesy guitar for half an hour, and those notes were cut-and-pasted on top of other music. It worked out fine! But probably no soundtrack album..."

d) or to singer/songwriter Ola Magnell:
Bengan tells: "Ola Magnell & Freudian Slips were Ola, me on (mainly) acoustic guitar, Nikke on bass and Åke Sundkvist on drums (a Stockholm pro with ABBA experience: a friend of Mats Ronander). Freudian Slips is no more, sadly. It's quite fun to play acoustic guitar - a bit of a challenge - but there are more nuances in my electric playing. I'm no troubadour player!"

e) or perhaps to Diz Watson, blues pianist and entertainer from the British Isles.

On top of all this, Nikke Ström became a permanent member of the roots & blues outfit the Mescaleros from Skåne in the autumn of 2000, as well as of the group Mama Malumma. The Mescaleros later on changed their name to Snibb.
Our own special pages on guitarist Bengt 'Bengan' Blomgren: http://www.fridhammar.com/bengt.html

Mats Ronander unofficial web site: http://hem.passagen.se/jejje/ronander/

Snibb (formerly Mescaleros) web site: http://www.snibb.nu