---

A P.A.W.S. Page

---
Totta's Bluesband - and extended musical family (15b)
---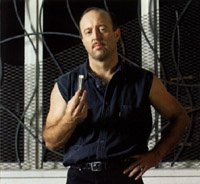 2000 March 8: Kim Wilson & The Blue Band at Nefertiti, Göteborg. And who are the Blue Band?
Apart from U.S. guitarist Kirk Fletcher (excellent young guy from the world of James Harman and Junior Watson), the lineup is a classic: Bengt Blomgren (guitar), Niklas Medin (grand piano), Nikke Ström (bass) and Tomas Olsson (drums). An amazing evening, warmly praised by yours truly in JEF 124 (summer 2000). Kim Wilson was great, helped on by solid backing, beautiful playing in a jazz vein by Niklas Medin - and a Bengt Blomgren in top form. Chorus after chorus of great guitar, slide or non-slide, pushed on by an enthusiastic Kim.
---

2000 Nov. 12: Superjam at Pusterviksbaren, Göteborg: a post Emmylou Harris-gig affair, starring a.o. the Mescaleros. Naturally, Nikke Ström invites the superguests to play, finally resulting in a tumultous combination of the entire Spy Boy band plus Bengt Blomgren on a couple of tunes. Buddy Miller & Bengan exchanging bluesy licks, a smiling Bengan getting heavier by the minute. Unfortunately the guitar is too soon removed from his hands by an imperative jammer ('Don't bogart that Strat, my friend').

2000 Dec. 4: Totta Näslund at Växjö Teater, Växjö. On tour. Band includes Bengt Blomgren, Staffan Astner (both on guitars), Peter Korhonen (drums) and Kjell Jansson (bass). Mainly songs from his solo albums. Ulf Dageby's "När jag kommer hem", Mikael Wiehe's "Ride Johnny, Ride" and "Tung längtan", Plura's "Kaviar från Paradiset" plus many songs penned by Dan Hylander. Excellent review in local paper Smålands-Posten, labelling the evening 'Swedish country music'.

2000 Dec. 6: Totta Näslund at Trädgår'n, Göteborg.
---
Back
Forward
---
Mail me at christer@fridhammar.com
---