---

A P.A.W.S. Page

---
Totta's Bluesband - and extended musical family (11)
---

88: Rolling Stones guitarist and vocalist Ron Wood visits Göteborg, in connection with an exhibition of his paintings. Jams with Totta's crowd, immediate loves it and wants to tour!
Soon the tour is rolling: 3 weeks, 16 gigs in Sweden, Norway and Denmark. Gig on May 11 in Göteborg. Lots of fun, lots of mutual respect. Band line up is the original TTB with Gunnar Pettersson + saxophonist Olle Niklasson.
---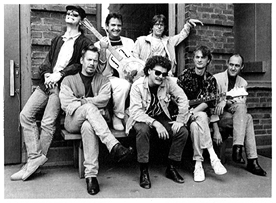 89: Birth of a new combination, Totta & Hot'n'tots: front row Näslund, Andersson, Blomgren and Olle Niklasson on sax. Back row Ström, Spencer Bohren and U.K. drummer Colin Allen (ex-John Mayall).
The outfit named Hot'n'tots will later on - with varying lineup - tour with/without Totta Näslund and record with acoustic guitarist and singer Spencer Bohren, born in Wyoming but a mainstay of the New Orleans music scene. Spencer and the Totta outfit became friends after meeting at a Blues Festival in Florida in 1983.
Not a period of fiery lead guitar for Bengt Blomgren: more a period of honing his chops on slide and perfecting his rhythm guitar technique. (More Neville Brothers than Bluesbreakers.)
I just LOVE this photo: please CLICK on it and enjoy it king size! Opens in another browser.
Totta & Hot'n'Tots featuring Spencer Bohren (Swedish release) (1989)
"Most of the songs were written by Spencer, but the recording sessions took place in Goteborg, Sweden in during the summer of 1989. The album made the Swedish Top 40, and yielded two popular radio hits in the fall of the same year. This record may still be available in Sweden or Norway, but it has never been released in the USA. Amazingly, the album contains songs by Rolling Stone Ron Wood and John Fogarty, neither of which are recorded by the artists themselves."
Quote fron Spencer Bohren's website http://www.spencerbohren.com/
---
Back
Forward
---
Mail me at christer@fridhammar.com
---