---

A P.A.W.S. Page

---
Robert 'Biggles' Sohlberg (2)
---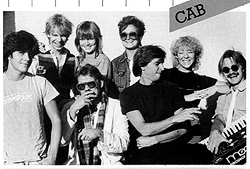 CAB: Initials of Carlos-Adlers-Biggles? Featured with four tracks on album "Solkräm" CAPRICE CAP 1281 (1982), an album they shared with Turbo Music and Syllarfoniker. Recorded live from 'Stora scenen', Gröna Lund, Stockholm. Photos borrowed from this album.
Album tracks: "Vet vad du vill", "Spelar ingen roll", "Första larmet", "Precis som på film". All written by Carlos Johansson & Robert Sohlberg.
Click on group photograph to see it larger sized!
Opens in separate browser.
CAB lineup:


Robert Sohlberg (vocals)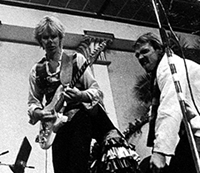 Fredrik Adlers (keyboards): a.k.a. Freddan, later on keyboardist with fusionjazz group Hawk On Flight. And founder of music gear shop 'Freddans'.

Magnus Hartelius (guitar): ex-Ensamma Hjärtan

Carlos Johansson (bass): a Biggles stalwart. Later as guitarist in High Noon.

Måns Abrahamsson (drums): from TAO.

Plus three dancers: Sonja Gruber, Elisabeth Eriksdotter-Edgren and Anna Nygren.
---
Back
Forward
---
Mail me at christer@fridhammar.com
---