[2011-03-22]
... The Charlie Daniels Band: "Fire On The Mountain" KAMA SUTRA RECORDS (1974)

"Charlie Daniels was born on Oct. 28, 1936, in Wilmington, N.C., and raised on a musical diet that included Pentecostal gospel, local bluegrass bands and the rhythm & blues and country music from Nashville's 50,000-watt radio stations WLAC and WSM."

Så säger Wikipedia. Och med en sådan musikalisk diet bör man utveckla en god musikalisk smak. Vilket denna platta bevisar.

Den släpptes alltså 1974, ett prima år i låtskrivaren, sångaren, gitarristen, fiddlaren etcetera Charlie Daniels diskografi. Ett år då han fortfarande hade stråke och (ev.) plektrum i höger hand och INTE en flagga. Det har blivit väl mycket patriotiskt flaggviftande i hans musik de senaste åren.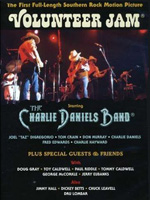 "Fire On The Mountain" är en suverän mix av 'americana': countryrock, bluegrassfiddle, texmex groove och sydstatsblues. Ett varierat album, men låtarna ligger så fint bredvid varandra. Och vi Allman Brothers Band-vänner faller direkt för "No Place To Go": 11 minuter av läckert Allmansstuk. Det här albumet känns f.ö. som en CAPRICORN-platta, den etikett på vilken Allman Bros gavs ut. Och apropå Allmans så är faktiskt Dickey Betts med här på dobro på låten "Long Haired Country Boy".

Charlie har legat bakom en rad festivaler med 'southern rock' kallade "Volunteer Jam", dokumenterade på flera skivor och på DVD. Charlies hjärta klappar verkligen för genren: Spåret "The South's Gonna Do It" på denna plattan (singeln blev en Top 30 hit 1975) är närmast en katalog över de band som Charlie tyckte förkroppsligar sydstatssoundet: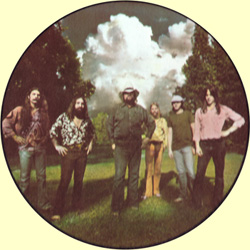 "Well the train to Grinder's Switch is runnin' right on time / And the Tucker boys are cookin' down in Caroline / People down in Florida can't be still / When old Lynyrd Skynyrd's pickin' down in Jacksonville / People down in Georgia come from near and far / To hear Richard Betts pickin' on that red guitar

Chorus:
So gather round gather round children / Get down well just get down children / Get loud well you can be loud here and be proud / And you can be proud here now / Be proud you're a rebel / Cause the south's gonna do it again

Elvin Bishop's sittin' on a bale of hay / He ain't good lookin' but he sure can play / And there's ZZ Top and you can't forget / That old brother Willie's gettin' soakin' wet / And all the good people down in Tennessee / Are diggin' barefoot Jerry and the CDB"