Part 13: David Purdy at the "Station Tavern":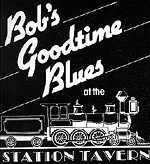 "Bob's Goodtime Blues" at the "Station Tavern", 41 Bramley Road, North Kensington has been an admirable institution for more than ten years. Live music seven nights a week, no entrance fees and a pleasant staff. Walls plastered with photographs (of a very young Joe Louis a.o.) and other mementos of blues history. I'd been there before and so I returned with enthusiasm.
And David Purdy was extremely good. A dedicated and intense musician with a very obvious sense of humour, he took the stage dressed in everyday clothes, armed with a budget guitar whose body he had covered in black&white fur, plugged into an amp'n'speaker outfit of slightly home built appearance (part Vox, part Tandy's?) - and won us all over.
"Pony Blues" never sounded better. The reverb sounded like glistening chrome, his busy fingers played weird and beautiful stuff, the endings became outdrawn shivering romantic dramas. He sang with a timeless quality: haunting songs about how his baby left him, left him a mule to ride, about the chilly winds he prayed should stop blowing, about his pledging of "Baby Please Don't Go!". For last encore we got the eternal wisdom that 'you never miss the water until the well runs dry'. So true.