Göran Svenningsson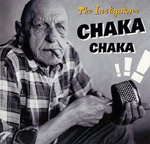 Well known Gothenburg guitarslinger and leader of now defunct blues&roll outfit The Instigators looking for some action?

No, he is simply very busy being a Master of Ceremonies, introducing acts and shuffling the eager crowd from one stage to another. Just in time delivery. Not unlike the job of a cowboy, come to think of it. Except introductions.
And yes, there is life after The Instigators. Watch out closely for Graper's Dream: Göran's new project in a more countrytinged vein in the splendid company of guitarist and vocalist Olle Schelander and drummer Daniel Winerö, another ex-Instigator. Expect some high-class original material from these guys!