Matt Radford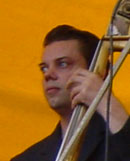 An impressive guy with a just as impressive musical CV. Solid, driving, melodical - and he obviously never forgets a thing.
He has played with Big Joe Louis & His Blues Kings since 1992. Also a member of King David's Trio (led by David Purdy) and of West Weston's Big Rhythm.
No idle hands here! He also plays with Little George Sueref & The Blue Stars as well as with Jerimiah Marques and the Blue Aces, in both outfits in the company of guitarist Lewis Fielding. Yes, and he tours with James Hunter, too..
More credits: pianist Carl Sonny Leyland's albums "From Boogie To Rock'n'Roll", "I'm Wise" and "Blues & Stomps", also featuring drummer Brian Nevill, once a Blues King.
Matt is also featured on The Planet Rockers' 2002 album, "Hillbilly Beat". And has recorded with guitarist Eddie Angel (of the Planet Rockers/Los Straitjackets), the late Texas rocker Ronnie Dawson and cult UK pop singer Holly Golightly. (Thanks to BJL for lots of info!)