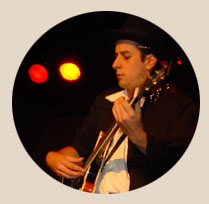 Lewis Fielding
I first came across this name on the sleeve of the impressive "This Way Up" miniCD, issued in 1998 by a band called LowerDown. A great outfit, featuring Corrina Greyson on vocals, Nick Tetley on harmonica, Lewis Fielding on guitar, Jeff Walker on double bass and Rob Eyers on drums. And a powerful guest appearance by a certain Mr. Big Joe Louis.
Sadly, the band folded - but Mr. Fielding did not! He went on to a prestige job with Big Joe Turner's Memphis Blues Caravan, being featured on - at least - the "Jackson On My Mind" CD.
Furthermore, he keeps himself busy as a guitar player with two bands both boasting bassist Matt Radford in their lineups: Little George Sueref & The Blue Stars and Jerimiah Marques and the Blue Aces. Also active on the London jam session scene. This is only the beginning!