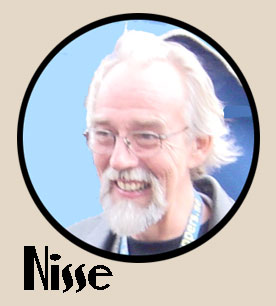 Åmål's Blues Fest: July 8 - 11 2004
The 13th Annual Blues Fest
This four day festival debuted in 1992, the brainchild of Nils Lönnsjö and Christer Nilsson. And it has rolled on fearlessly ever since, growing in importance on the Swedish and international blues scene, as well as growing in importance for the town of Åmål it is staged in. The Fest is clearly popular among the townsfolk and the busy storekeepers. And the police do not seem to mind either - this is definitely a festival of the no-hassle variety.

The 2004 edition became a wet one (of course we are talking rain here). Still, the Blues Terminal was amply covered by a giant ceiling built of corrugated steel or something. The audience by the small outside stage at the Café Liljan fared slightly worse but never lost their enthusiasm, thanks to great performances.
The artist lineup of the Fest made a long and varied list. Our pages will obviously focus on the U.K. performers, but a list of the main attractions would come to this:

Little George & the Blues Kings (UK), James Hunter & the Blues Kings (UK), Big Joe Louis & the Blues Kings (UK), Lightnin´Moe & the Peacedisturbers (DK), Svante Sjöblom & Filip Jers/ Nisse Torbjörn (DK), Louise Hoffsten & Snibb, Otis Grand/Brian Templeton & The Al Tehler Blues Band (USA/S), Sharrie Williams & the Wiseguys (USA), Sky High feat. Petra Kvännå & Per Wiberg, Jacob & the Jackals, Baba Blues XL, Bluebirds, John Weston & Carla Robinson (USA), Lil´Jimmy Reed & the Blue Delivery (USA/S), "Bluesens Tuffe Damer" with Kristin Berglund, Rita Engedalen, Margit Bakken & Marianne Tovsrud (N), Jackie Payne/Steve Edmonson (USA), KnockOut Greg & Blue Weather feat. Pelle Piano, Big Jack Johnson/Keith Dunn & the Blue Delivery (USA/S), Roffe Wikström & Blue Hammer, Rich Harper Blues Band (USA).
Quoted from The Official Web Site www.bluesfest.net which you should visit regularly!